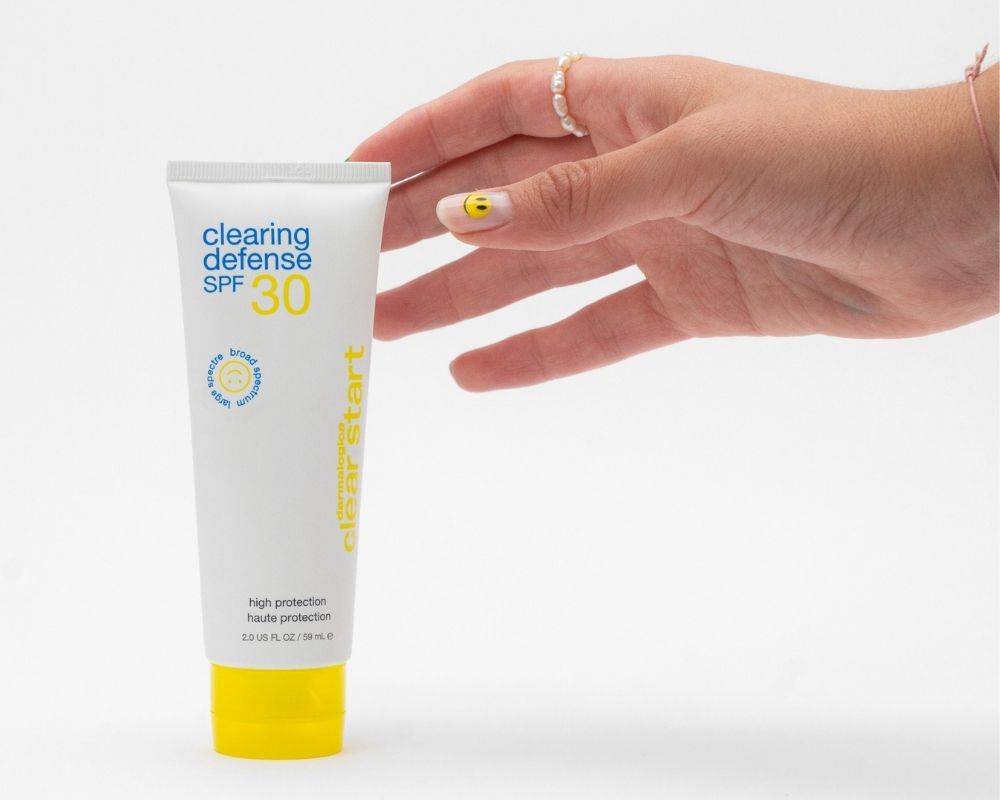 Sun's out, it's beach weather and we all need our SPF protection! Especially the teenagers, with oily and acne-prone skins!
---
Meet the NEW! Clearing Defense SPF30+ by Clear Start - the non-clogging hero to protect teen skin!
Teens often don't have the time for damage control on oily, breakout-prone skin. They want a fierce defender that will keep their skin looking healthy while they're out enjoying the sunshine.
The NEW! Clear Start Clearing Defense SPF30+ is a Shine-reducing SPF moisturiser that helps protect breakout-prone skin from environmental stress.
While young skin is generally resilient, it is vulnerable to UV rays, pollution, the impact caused by make-up usage, and dehydration - all of which can worsen the appearance of breakouts, oily skin, and acne scars.
UV rays and pollution are external environmental factors that can compromise the skin, while dehydration is often associated with excessive washing and treatment of breakouts.
Make-up becomes a worrying factor too, not only due to the quality of makeup, but also to habits such as cleansing skin with make-up wipes, or not cleansing skin from makeup at all for days, using comedogenic products, and sleeping with make-up on.


Does the Sun help clear up acne?

Many people believe that the sun helps clear up acne. I cannot stress this enough: this is a myth.
It might seem to make sense because the sun can temporarily darken skin, reducing visible contrast between existing breakouts and skin tone.
There are also suggestions that UV rays can mitigate the proliferation of breakout-causing bacteria.
In reality, sun exposure will only cause breakouts to become worse - and here's why:
1. UV radiation from too much sun exposure actually compromises the skin barrier, causing Trans-Epidermal Water Loss (TEWL), which leads to dehydration.
2. UVB rays also cause sunburn, which generates an excess amount of dead skin cells. Breakout-prone skins already experience a higher rate of sebum production and abnormal desquamation (which can be a cause for breakouts). Breakout-prone skin produce four to five times more skin cells, yet fewer lamellar granules, which are responsible for releasing natural desquamation enzymes.
3. Finally, the sun also darkens acne scars, which are highly sensitive to sunlight. This occurs because, as a response to the inflammation caused by both the acne and the sunlight, the skin's melanocytes (melanin-producing cells) overproduce melanin to help protect skin cells from further damage.


Protect + Hydrate without clogging pores!

This is where your NEW! Clearing Defense SPF30 enters!
• Mattifies – Ultra-lightweight moisturiser provides a long-lasting matte finish.
• Protects – Proven to help shield skin from UV rays, pollution, make-up, and dehydration without clogging pores.
• Hydrates – Combats the dehydrating effects of environmental stress.
• Certified cruelty-free, gluten-free and vegan.


---
---
---
The ingredients that guarantee efficacy

Broad Spectrum protection to help defend skin against UV rays, which may lead to the appearance of uneven skin tone.
• Antioxidant Salix Alba (Willow) Bark Extract, Camellia Sinensis (Green Tea) Leaf Extract and Sodium Ascorbyl Phosphate (Vitamin C) combat the irritating effects of pollution, even on breakout-prone skin.
• Patented TT (Terpineol and Thymol) The technology works with the skin's natural microbiome and helps reduce sebum on the surface of the skin.
• Natural Tapioca Starch, a powerful oil adsorber, mattifies skin and helps reduce oily shine.
• Plant-derived D-Glucose (Saccharide Isomerate) actively helps prevent dehydration.
---
---
Apply a generous amount to cleansed face and neck, preferably 30 minutes prior to sun exposure.
---