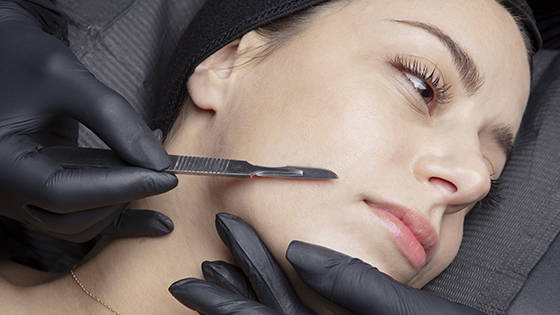 We are so excited here at Skinmart to add another fantastic results-driven treatment to our Skin Treatments Menu.
This new and unique treatment utilises a surgical blade to remove the outermost layers of the epidermis along with Vellus hair.
The skin is left smoother, glowing and more even. Perfect before an event for a flawless makeup application or as a regular exfoliating treatment. You can even pair it with the Societé Oxygen Mask+ LED Light Therapy for the perfect intensive Luminising Facial.
---
Benefits of Dermaplaning
Better penetration and efficacy of your other skin products

Removal of dead skin build-up

Removal of excess fine hairs which are known for trapping the dirt, oil and dead skin cells in your pores (leading cause of acne and blemishes)

Refining pores

Radiant skin complexion post-treatment

Even Makeup Application
---
The Dermaplaning FAQ - Frequently Asked Questions.
Question - Will the hair grow back thicker?
Answer - Contrary to what you may think, Dermaplaning will not make your hair grow back thicker or darker. The structure of your hair follicle is not changing by Dermaplaning the vellus hair from your face.
Question - How often should I have the treatment?
Answer - It is recommended every 3-4 weeks.
Question - Will Dermaplaning make my skin look younger?
Answer - Dermaplaning will make your skin look younger, but it's also beneficial for makeup application. Since this treatment removes the top layer of your skin, it eliminates the dead skin cells that block skincare products from penetrating as deep as they could.
Question - Can I have Dermaplaning when I am pregnant?
Answer - Yes, you can!! Dermaplaning is very safe when pregnant.
Question - Is there any contraindication or side-effect to that type of exfoliation?
Answer - The only contraindications for this treatment would be active acne, some types of medications and some chronic skin conditions. Always have a consultation with your therapist to see if this treatment is suitable for you.
Question - Can all skin types have the Dermaplaning?
Answer - Yes all skin types can have this treatment. It is totally safe.
---
If you would like to book in for this treatment please email hello@skinmart.com.au or call us on 1300 30 25 35.
---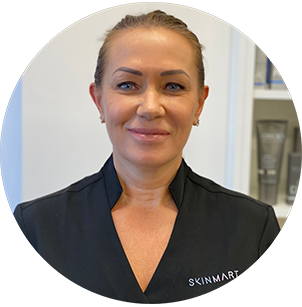 My name is Rochelle, I have been lucky enough to be in the Beauty Industry for over 30 years helping clients achieve amazing results with their skin.
With 3 children of my own, I understand life is busy, so I'd love to help you find the best regimen that works for you and your lifestyle!
Having owned my own traditional based Beauty Salon and time in the Laser Industry, I've learnt that my passion lies in results-driven skin treatments and products. I feel so fortunate to have the most amazing brands at my fingertips. This allows me to give the best possible treatment and home care advice you need to achieve the skin you desire.